SERVOsoft News
SERVOsoft® Moog Version Released
Nov. 14, 2016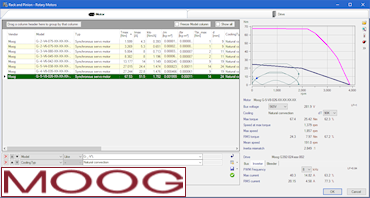 SERVOsoft® Moog is released with the latest Moog servo system products, including rotary servo motors, servo drives, and accessories.
About Moog Industrial
Moog Industrial Group designs and manufactures world-class motion control products, solutions and services combining electric, hydraulic, and hybrid technologies with expert consultative support in a range of applications including energy production and generation machinery, industrial machinery and simulation and test equipment. We help performance-driven companies design and develop their next-generation equipment.
Moog products in SERVOsoft Database
Moog has published 93 drives, 12 infeed modules, 17 bleeder modules and 8 rotary motors in the SERVOsoft database. You can find more information about Moog servo systems at www.moog.com/industrial.
Using 'Tools > Update Database', SERVOsoft users can get the latest database update with Moog products.
The SERVOsoft database continues to grow with frequent updates, and now contains over 125,000+ products! Click here for a summary of the current products in the database.
If you are a vendor and want to add your products to the SERVOsoft database and/or are interested in a Vendor Promotion Version, please contact us.