SERVOsoft News
Manufacturer Users can upgrade to ADVANCED / PRO for 50% / 25% Off!
May 1, 2019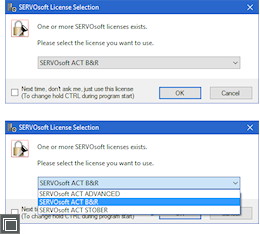 For a limited time, SERVOsoft Manufacturer users can upgrade to the ACT365 ADVANCED version for only $249.50 USD, which is 50% off the 1st year regular price of $499 USD.
Or for those power users with very demanding applications, SERVOsoft Manufacturer users can even upgrade to the ACT365 PRO version for only $749 USD, which is 25% off the 1st year regular price of $999 USD.
ADVANCED / PRO Renewals are $249.50 USD/yr or $499 USD/yr, 2nd year onwards.
Offer available until Dec 31, 2019, to all qualified manufacturer versions users that have had a manufacturer version license for at least 3 months.
Rest assured, you still keep your Manufacturer version license. After your new ADVANCED/PRO license is activated, when SERVOsoft starts, you will be prompted to choose the version you want to use. And you can set a default version to run automatically.
Click on the image to the right to view the full size image.
SERVOsoft Manufacturer versions include:
ATLANTA
B&R
BAUMUELLER
BONFIGILIOLI
CONTROL TECHNIQUES

EXLAR
GUDEL
MOOG
PARKER
STOBER
To check if you qualify, Complete and Submit this Form.